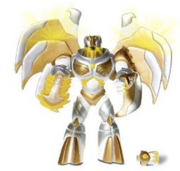 He was the lord of light and enemy of
Obscurio
. He was very tall and could fly.
Supreme luminose
[[|10px]]


Type:

Light

Allys:

lords of nature.every gormiti exept fire and darkness .

Base:

The temple of light
Shield of light-A big shield appears in luminoses hand.
Silver sheild-A shield would appear on his left arm.
Sword of light-He weilds a sword that can chop up dark shadows.
He is the most powerful gormiti ever with 55 in power in his titanium form.
Ad blocker interference detected!
Wikia is a free-to-use site that makes money from advertising. We have a modified experience for viewers using ad blockers

Wikia is not accessible if you've made further modifications. Remove the custom ad blocker rule(s) and the page will load as expected.